19.06.2018 | Full Research Article | Ausgabe 1/2019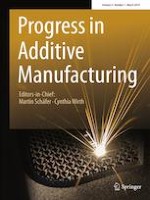 Investigation of polylactide and carbon nanocomposite filament for 3D printing
Zeitschrift:
Autoren:

Akshay Potnuru, Yonas Tadesse
Wichtige Hinweise
Electronic supplementary material
Publisher's Note
Springer Nature remains neutral with regard to jurisdictional claims in published maps and institutional affiliations.
Abstract
Fused deposition modeling (FDM) has been used to manufacture complicated structures and robots in the past few years. However, most FDM machines do not fabricate fully functional robots that are ready for use. One of the requirements of fully functional 3D printed robots is electrical connection in some part of the printed structure. Recently, electrically conductive commercial filaments are emerging to the market, but the actual chemical compositions of the filler and host materials as well as mechanical properties are not available. This paper presents composite materials consisting of conductive carbon nanoparticles, thermoplastics, and solvents to create thin filaments for 3D printing. The mechanical and electrical properties of the filaments fabricated using a composition of 0–15% weight of carbon nanoparticles (NC) in polylactide (PLA) and dichloromethane (DCM) solvent were investigated. The DCM is used for dissolving the PLA and dispersion of the NC, which is subsequently evaporated by drying. The electrical conductivity of the composite filament is compared with commercial and academia counterparts. Possible applications of the composite materials for fabrication of electrical circuitry for 3D printed robots were also discussed.