18.06.2019 | Ausgabe 14/2019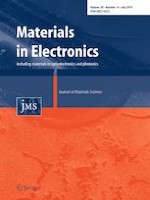 Investigation of the structural, morphological and luminescence properties of MgAl2O4:Cr3+ nano powders
Autoren:

Yan Hao, Kaipeng Wu
Wichtige Hinweise
Publisher's Note
Springer Nature remains neutral with regard to jurisdictional claims in published maps and institutional affiliations.
Abstract
Cr
3+
doped MgAl
2
O
4
nano powders were prepared by the Pechini-type sol–gel process. Comprehensive analysis for the MgAl
2-

x
O
4
:
x
Cr
3+
(0 ≤ 
x 
≤ 0.05) nano crystalline was performed using X-ray Diffraction, Fourier Transform Infrared Spectroscopy, Field Emission Scanning Electron Microscope, Diffuse Reflectance Spectra, Excitation and Emission Spectra. The powders calcined at 1100 °C were spherical with the average particle size of 90 nm, which were suitable for the preparation of the transparent ceramics. The crystal field, electron-vibration coupling and energy levels splitting of MgAl
2
O
4
: Cr
3+
were discussed. The Cr
3+
was suited in a strong crystal field, and the value of Dq/B = 3.9. At 457 nm excitations, the characteristic zero phonon lines appeared at 690 nm with the FWHM about 8 nm. The quenching concentration of Cr
3+
was about 0.04.