28.01.2020 | Ausgabe 5/2020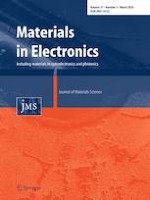 Investigation on acetone sensing properties and mechanism of p-type Cr2WO6 nanoparticles
Autoren:

Chen Tian, Min Zhou, Zhongqiu Hua, Wenjing Yuan, Yi Wu, Xuemin Tian, Tao Song
Wichtige Hinweise
Electronic supplementary material
Chen Tian and Min Zhou have contributed equally to this work.
Publisher's Note
Springer Nature remains neutral with regard to jurisdictional claims in published maps and institutional affiliations.
Abstract
In the present work, gas sensors based on Cr2WO6 nanoparticles were fabricated by a screen-printing technique, and the sensing properties were characterized with acetone and other typical reducing gases under both dry and humid air backgrounds. Interestingly, it was found that Cr2WO6 sensors showed a p-type conduction characteristic with a highly sensitive response to acetone vapor in a relatively low concentration. In the presence of humidity, resistances of Cr2WO6 sensors were significantly increased; nevertheless, sensor responses were obviously inhibited. In addition, the basic sensing mechanism of Cr2WO6 sensor was also investigated based on oxygen adsorption behavior and catalytic properties of Cr2WO6 surface. According to experimental results, it is proposed that the resistive responses of Cr2WO6 sensor to reducing gases were highly oxygen-dependent, indicating that the surface oxygen adsorption and reaction also played the basic role in the sensing process as that observed in typical n-type MOS sensors. Additionally, sensors also suffered from a high cross-sensitivity to water vapor due to the competition of chemisorption of water and oxygen on the surface of Cr2WO6.