01.08.2014 | Ausgabe 9/2014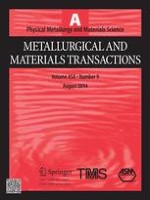 Investigation on
In Situ

Tensile Behavior of Superalloy Bicrystals with Different GB Misorientations
Zeitschrift:
Autoren:

H. Xu, P. Li, Y. Z. Zhou, J. G. Li, T. Jin, X. F. Sun, Z. F. Zhang
Wichtige Hinweise
Manuscript submitted November 20, 2013.
Abstract
The
in situ
tensile behavior of nickel-base superalloy bicrystals with different grain boundary (GB) misorientations of 2 deg, 10 deg, and 16 deg was preliminarily studied. Among three kinds of bicrystals, the bicrystal with 2 deg misorientation was characterized with continuous slow strain hardening as well as crack initiation and propagation along the SB-matrix interface due to the full development of slip bands (SBs). In contrast, GBs in 10 deg and 16 deg bicrystals could effectively impede the SBs. Thus, the crack initiation occurred along the carbide/matrix interface, and more specifically cracks in 16 deg bicrystal fully propagated along the GB. Irregular GB in superalloy bicrystals consists of three types of GB segments. Among them, parallel GB is distinctly beneficial to GB strengthening and improving the yield strength of bicrystal. The statistical results showed that the proportion of parallel GB in the 10 deg bicrystal is the highest. Meanwhile, the GB in 10 deg bicrystal possesses higher resistance to crack extending, which can be attributed to its highest carbide fraction at the GB. Thus, its fracture exhibited a mixed mode of both GB and SB cracking.