01.05.2019 | Original Article | Ausgabe 9/2019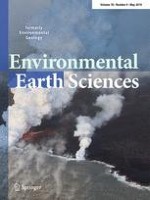 Investigation on the distribution characteristics of ground cracks in the Chengchao Iron Mine, China
Zeitschrift:
Autoren:

Yangyang Deng, Congxin Chen, Kaizong Xia, Hansong Pang, Chaoyi Sun, Kuoyu Yang, Xianwei Zheng
Wichtige Hinweise
Publisher's Note
Springer Nature remains neutral with regard to jurisdictional claims in published maps and institutional affiliations.
Abstract
In this study, a comprehensive assessment of the distribution characteristics of ground cracks in the Chengchao Iron Mine was conducted by field investigation and monitoring. In general, ground cracks are initially distributed around collapse pits, and subsequently extend outwards centered on the mined-out area. Greater ground deformation leads to more developed ground cracks. Ground cracks can be divided into cut-through crack, deep crack and shallow crack based on their downward extension depths. Furthermore, the formation of ground cracks is controlled by both underground mining and geological structures. Ground cracks can be divided into mining-induced crack and tectonic crack based on their main influencing factors. Moreover, many types of ground cracks are caused by different failure modes including tensile failure, shear failure and mixed failure. Ground cracks can be divided into vertical-shear crack, vertical-shear and horizontal-tensile crack, horizontal-tensile crack, horizontal-shear crack and mixed crack based on their formation mechanisms. In particular, the movement line and the break line, defined as
ε
 = 2 mm/m and 6 mm/m, respectively, can be reasonably regarded as disturbance boundary and crack boundary in a metal mine. The disturbance zone caused by underground mining can be divided into collapse zone, break zone and movement zone based on the size of ground deformation and the characteristics of ground cracks. Increases in ground crack width and length exert different degrees of stress release on the rock masses outside and inside the crack, thus increasing their deformation difference. In addition, the extension of ground cracks is related to the ground topography and the strength and integrity of the rock masses and soil. Cracks on hilltop are more developed than those on flat land, and cracks will initially appear in rock mass and soil rather than on a concrete structure due to the lower strain resistance of the rock mass and soil. However, concrete structures are more sensitive to cracking than rock mass and soil because of the better integrity of concrete structures.