2019 | OriginalPaper | Buchkapitel
Investigation on the Effect of Physical Hardening and Aging Condition on Low-Temperature Properties of Asphalt Binder Based on BBR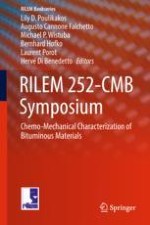 Erstes Kapitel lesen
Autoren: Di Wang, Augusto Cannone Falchetto, Chiara Riccardi, Michael P. Wistuba
Abstract
Low-temperature properties of asphalt binders are fundamental for designing asphalt mixture in cold regions. This is especially true for alternative technologies such as Warm Mix Asphalt (WMA), for which a temperature reduction during production may potentially lead to substantial benefits in terms of long-term aging conditions. At low temperature, asphalt binder is conventionally characterized based on creep tests conducted with the Bending Beam Rheometer (BBR) in ethanol at a single conditioning time of 1 h. However, asphalt binders undergo significant time-dependent stiffening, often referred to physical hardening, when stored at such low temperatures. In this paper, the effect of aging temperatures and physical hardening on the low temperature rheological properties is experimentally investigated and modeled. First, BBR tests are performed on four long-term aged asphalt binders, which were previously short-term aged at three different temperatures (123 °C, 143 °C, and 163 °C), after three different conditioning times: 1 h, 24 h and 72 h. Next, the creep stiffness,
S
(
t
), relaxation parameter,
m
-value, and difference in critical temperature, Δ
T
c
are calculated and compared. Finally, the Huet model is fitted to the experimental data with the goal of comparing the effect of aging temperatures and physical hardening on the rheological parameters. Results indicate that physical hardening causes a significant increase in creep stiffness in the first 24 h while only moderate contribution is obtained when condition time is extended. In addition, the reduced production temperature of 40 °C can significantly improve the aging properties of asphalt binders at low temperatures while mitigating the effect of physical hardening.