02.01.2020 | ORIGINAL ARTICLE | Ausgabe 7-8/2020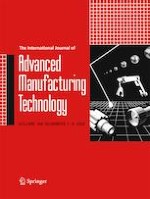 Investigation on the forming force and surface quality during ultrasonic-assisted incremental sheet forming process
Autoren:

Weidong Zhai, Yanle Li, Zinan Cheng, Lingling Sun, Fangyi Li, Jianfeng Li
Wichtige Hinweise
Publisher's note
Springer Nature remains neutral with regard to jurisdictional claims in published maps and institutional affiliations.
Abstract
The integration of ultrasonic vibration into the incremental sheet forming (ISF) process can significantly reduce the forming force and bring other benefits. However, the effects of ultrasonic vibration on the forming force and the surface quality during the forming process have not been clearly explained. To this end, a series of experiments were established to explore the impacts of the step-down size, the sheet thickness, and the rotation speed on the ultrasonic soften effect. It is obtained that the effect of the ultrasonic vibration is more significant with the smaller step-down size and the smaller thickness, while the rotation speed has a limited effect on the soften effect of the ultrasonic vibration. Subsequently, the periodic dent feature on the surface was obtained by the white light interferometer. The effect of the periodic dent feature was explored by examining surface height parameters including the arithmetic average deviation
S
a
, the kurtosis
S
ku
, and the skewness
S
sk
of the roughness surface and the waviness surface, respectively. In addition, the impacts of the roll mark orientation and the step-down size were also taken into account. Finally, the surface function parameters were analyzed to explore the relationship between surface topography and surface properties. It is obtained that the ultrasonic vibration influences the surface roughness, the surface bearing capacity, and the lubrication performance, whereas the effect is closely related to the roll mark orientation and the step-down size. These findings provide a theoretical basis for further investigation of the mechanisms of the ultrasonic-assisted incremental sheet forming process.