01.04.2015 | Original Paper | Ausgabe 2/2015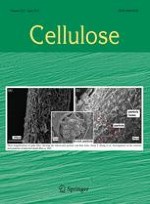 Investigations on the structure and properties of palm leaf sheath fiber
Zeitschrift:
Autoren:

Tonghua Zhang, Min Guo, Lan Cheng, Xiaolong Li
Wichtige Hinweise
Tonghua Zhang and Min Guo are the first author of this study.
Abstract
As a natural cellulosic fiber, palm leaf sheath fiber (palm fiber) is widely-distributed and abundant cellulose and engineering fiber resource. To obtain essential information about palm fiber, its morphology, composition, chemical and crystal structure, tensile characteristic and adsorption property were investigated. Test results of palm fiber were compared with those of other natural cellulosic fibers. Palm fiber presents aligned Si-dots on the surface and abundant fiber cells with spiral vessel tissues at the cross section. The chemical composition reveals that palm fiber contains abundant lignin but smaller amount of cellulose (the content of 28.16 %). In addition, investigation illustrates that cellulose in palm fiber is Iβ-dominant type, which is also confirmed by FTIR analysis. X-ray diffraction study shows that the crystallinity (30.52 %), crystallinity index (36.5 %) and crystal size (2.5 nm) are all apparently lower than those of ramie, flax and bamboo fibers. Given the low crystallinity and cellulose content of palm fiber, its tensile strength and Young's modulus are also lower than those of other fibers. Moreover, palm fiber exhibits excellent breaking elongation, high moisture regain, distinct yield characteristic, and variability in strength. The modified Weibull model was used to study the tensile behavior of palm fiber. This model accurately predicted fiber strength. The absorption volume in isotherm of carbonized palm fiber increases with rising pressure, thus indicating good porous structure of the fiber.