18.05.2017 | Research Article | Ausgabe 3/2017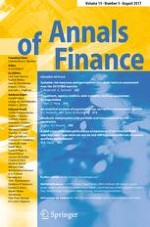 Investment, agency conflicts, debt maturity, and loan guarantees by negotiation
Zeitschrift:
Autoren:

Liu Gan, Zhaojun Yang
Wichtige Hinweise
We appreciate the comments of an anonymous referee. The research for this paper was supported by the National Natural Science Foundation of China (Project Nos. 71371068 and 71171078), Social Science Achievement Review Commission of Hunan Province (Project Nos. XSP17YBZZ070) and Key Institutes of Regional Financial Innovation.
Abstract
We consider an irreversible investment, of which the sunk cost is financed by a finite-term debt after entering into an option-for-guarantee swap (OGS) with negotiation. The OGS is a three-party agreement among a lender (bank), an insurer, and a borrower (entrepreneur), where the bank lends at a given interest rate to the entrepreneur and if the borrower defaults on debt, the insurer must pay all the principal and remaining interests to the lender instead of the borrower. In return for the guarantee, the borrower must allocate a perpetual American call option to purchase a fraction (guarantee cost) of his equity at a given strike price. We find that the investment threshold decreases but the exercise threshold of the insurer's option increases with the borrower's bargaining power. Both the investment and exercise threshold increase with debt maturity, but there is a U-shaped relation between the guarantee cost and debt maturity. The borrower postpones investment once the funding gap or project risk increases. The swap may overcome the inefficiencies from asset substitution and debt overhang, strongly depending on the debt maturity and borrower's bargaining power.