2016 | OriginalPaper | Buchkapitel
4. Ionic Liquid-Based Extraction and the Application to Liquid Membrane Separation of Rare Earth Metals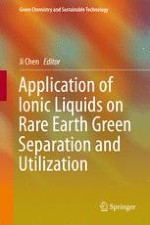 Erstes Kapitel lesen
Autoren: Fukiko Kubota, Jian Yang, Masahiro Goto
Verlag: Springer Berlin Heidelberg
Abstract
Separation and recycling of rare-earth metals are attracting continuous attention worldwide. Liquid-liquid extraction is a conventionally employed technique for the separation of rare-earth metals. In recent years, growing attention has focused on room temperature ionic liquids as alternatives to conventional organic solvents.
The development of an efficient extraction system based on the ionic liquids (ILs) depends on the employment of an appropriate combination of the extractant and an ionic liquid. In the IL-based extraction system with neutral extractants such as CMPO and TOPO dissolved in the imidazolium ILs, the extraction efficiency and selectivity for rare-earth metals are greatly improved compared to that in an organic solvent system, and the stripping, however, is unfavorably difficult. The use of acidic extractants such as PC-88A is limited in the poor solubility in ILs, though the extraction is controllable by the acid concentration in the aqueous phase.
An extractant, recently developed
N,N
-dioctyldiglycol amic acid (DODGAA), seems to combine the advantages of a neutral and an acidic extractant. That is, DODGAA is soluble in the ILs and shows the high separation performance for rare-earth metals compared to that in n-dodecane. Furthermore, the stripping is possible by an acid solution. Due to the extremely high affinity of DODGAA for rare-earth metals, the extraction system is applicable in the recycling of rare-earth metals. Taking advantage of the feature of ILs, a supported liquid membrane system can be constructed using DODGAA as a carrier.
In this chapter, we summarize the IL-based extraction and separation of rare-earth metals and the application to the advanced technique, focusing on our research results.