2018 | OriginalPaper | Buchkapitel
IoT Architectural Styles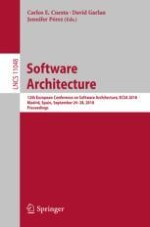 Erstes Kapitel lesen
A Systematic Mapping Study
Autoren: Henry Muccini, Mahyar Tourchi Moghaddam
Abstract
IoT components are becoming more and more ubiquitous. Thus, the necessity of architecting IoT applications is bringing a substantial attention towards software engineering community. On this occasion, different styles and patterns can facilitate shaping the IoT architectural characteristics. This study aims at defining, identifying, classifying, and re-designing a class of IoT styles and patterns at the architectural level. Conforming a systematic mapping study (SMS) selection procedure, we picked out 63 papers among over 2,300 candidate studies. To this end, we applied a rigorous classification and extraction framework to select and analyze the most influential domain-related information. Our analysis revealed the following main findings:
(i)
facing by various architectural styles that attempted to address various aspects of IoT systems, cloud and fog are discerned as their most important components.
(ii)
distributed patterns are not widely discussed for IoT architecture, however, there is foreseen a grow specially for their industrial applications.
(iii)
starting from the last few years on, there is still a growing scientific interest on IoT architectural styles. This study gives a solid foundation for classifying existing and future approaches for IoT styles beneficial for academic and industrial researchers. It provides a set of abstract IoT reference architectures to be applicable on various architectural styles.