2019 | OriginalPaper | Buchkapitel Open Access
IoT: Do We Have a Choice?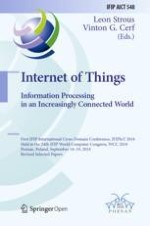 Draft IFIP Position Paper
Autoren: Leon Strous, IFIP Domain Committee on IoT
Abstract
Many experts and organizations are addressing the Internet of Things (IoT) in policy statements, papers and conferences. There are many aspects to be considered when talking about IoT. The International Federation for Information Processing (IFIP) contributes to the discussion by investigating what choices can or must be made regarding these various aspects. And by addressing the question what choices various stakeholders should have. This draft version of the position paper was discussed at the IFIP IoT working conference on 18-09-2018 and in the IFIP General Assembly on 23-09-2018. The outcome of these discussions will be processed in the final version of the position paper.