2019 | OriginalPaper | Buchkapitel
IoT's Consumer Acceptance: A New Perspective: An Abstract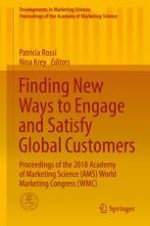 Erstes Kapitel lesen
Autoren: Sabrina Hombourger-Barès, Leila El Kamel
Abstract
Despite the rising popularity of the Internet of Things (IoT), consumer acceptance continues to grow at a slow pace. For example, the adoption of health and fitness wearables is still relatively low, and approximately half of consumers abandon their wearables within the first 6 months. This pattern means that firms engaged in IoT industry have difficulty recovering their development and marketing costs.
Previous research on IoT's consumer acceptance uses mainly technology acceptance models (TAMs). Academic literature highlights three limits of TAMs: first, these models only measure the intent to use or adopt the new technology, and they don't consider the specificities of individuals and/or contexts. Second, they predict the acceptance of a new technology according only to two functional factors leaving out other potential sources of value in IoT adoption and sustained use. Third, the results of empirical tests are mixed and inconclusive, which leads some researchers to question the validity of such models.
More recent empirical studies take different approaches by considering different technologies or different contexts. They offer a complementary view but also a fragmented view of IoT's consumer acceptance. There is a need for more integration.
This paper takes steps in this direction. We conducted a netnographic study on two online virtual communities debating fitness wearables. Eight threads were selected according to the relevance of the topics and the frequency of exchanges.
Drawing on the service-dominant logic theory, the perceived value conceptualization, and the customer experience approach, data analysis reveals both value co-creation (gains) and co-destruction (pains) determinants addressed through different experiential dimensions.
Moreover, it highlights several interactions between the specific determinants of both sides of the coproduction process which rely on the consumer's agency that could lead to "compensation phenomena" and bypass strategies.
On the one hand, the psychological cost may be compensated by three forms of social sharing that we identified among members of the two virtual communities. On the other hand, our results also highlight two avoidance strategies in order to counter IoT's planned obsolescence. The findings of this study have key implications for IoT marketers and suggest future research directions.
References Available Upon Request