2018 | OriginalPaper | Buchkapitel
Iran's Accession to the World Trade Organization: An Impediment or a Catalyst for Development?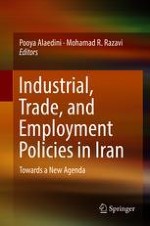 Erstes Kapitel lesen
Autor: Sadeq Z. Bigdeli
Abstract
Iran became an observer to the World Trade Organization (WTO) in 2005. There have been heated internal debates ever since on the pros and cons of joining the multilateral trading system, with some exaggerated claims on both sides. Proponents rightly consider accession as an inevitable path toward Iran's integration into the global economy but tend to underestimate the devilish details specific to each accession and their potential impact on development policies. Opponents often view Iran's accession as a prelude to deindustrialization and to locking the economy in the lower end of the global value chains (GVCs). Yet, export-driven development in a GVC-dominated world economy is highly unlikely without joining the WTO. This chapter argues that Iran's accession, if negotiated properly, has the potential to improve the country's institutional quality in terms of trade/economic policy formulation and implementation. At the same time, due to longtime relative isolation from the global economy and presence of uncompetitive industrial and services sectors, WTO accession, if executed without a clear vision and policy precision, could involve high, if not prohibitive, adjustment costs. Therefore, on the technical level, various components of WTO accession policy should be regarded as potential tools for fostering and embedding Iran's pre-existing but long overdue long-term economic reform plans. On the political level, Iran's accession strategy must be considered by the leadership in a broader geopolitical context—as an important gateway for the country's multilevel engagement with the global economy.