01.06.2015 | Research Paper | Ausgabe 6/2015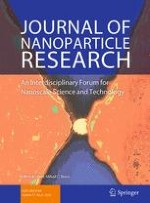 Iron oxide nanoparticles induced alterations in haematological, biochemical and ionoregulatory responses of an Indian major carp
Labeo rohita
Zeitschrift:
Autoren:

M. Saravanan, R. Suganya, M. Ramesh, R. K. Poopal, N. Gopalan, N. Ponpandian
Abstract
The wide use of iron oxide nanoparticles (Fe
2
O
3
NPs) in various applications has raised great concerns worldwide. In this work, we measured the potential harmful effects of Fe
2
O
3
NP (<50 nm) at concentrations of 1 and 25 mg/L on haematological, biochemical, and ionoregulatory responses in an Indian major carp,
Labeo rohita
for a short-term period of 96 h. The results revealed significant (
P
< 0.05) decreases in haemoglobin, haematocrit, mean cellular volume, mean cellular haemoglobin, protein, sodium (Na
+
), potassium (K
+
), chloride (Cl
−
) and gill Na
+
/K
+
-ATPase levels in both the concentrations. White blood cell, mean cellular haemoglobin concentration and glucose levels were significantly (
P
< 0.05) increased in response to both concentrations during the study period. However, no significant changes in red blood cell count and gill Na
+
/K
+
-ATPase (25 mg/L) activity were noticed compared to those of the respective control groups. Based on this study, it was found that the Fe
2
O
3
NPs do have prominent effects on freshwater fish
L. rohita
. Our data suggest that the alterations of these parameters can be used as nonspecific biomarkers to monitor the environmental risks arising from nanoparticles in aquatic ecosystem and also regulate the use, production and release of nanoparticles.