2017 | OriginalPaper | Buchkapitel
Is a Holistic Criteria-Based Approach Possible in User Experience?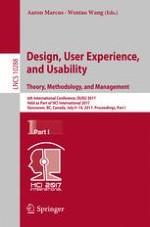 Erstes Kapitel lesen
Study of the Classification of 58 Criteria Linked to UX
Autoren: Josefina Isabel Gil Urrutia, Eric Brangier, Laurent Cessat
Abstract
After having produced many criteria to improve accessibility, ease of use, emotions linked to interactions, persuasive design, cultural values attached to systems, socio-organizational contexts, the domain of HCI must conduct a reflection on the structuring of these criteria. The aim of this paper is to advance research in the field of user experience criteria by understanding how UX professionals organize their cognitions around the criteria set. For this, we conducted a study of its classification with 17 experts. The set of 58 cards was presented by explaining that each card represents a criterion. The experts were asked to do an open card sort, to name the groups of cards and, upon completion, to explain the logic they had based their sorting on. On the basis of several statistical analyzes, the results show a categorization into 8 main classes: (1) Utility (task-system suitability, achieving the goal, efficacy) and Pragmatism (ergonomic criteria, efficiency); (2) Hedonism, Pleasure, Emotions; (3) Persuasion, Incitement, Pervasive design; (4) Emotional & Cognitive Stimulation for self-development; (5) Marketing strategy/Customer Relationship Management; (6) Security/Reliability-User's protection; (7) Organizational factors; and (8) Social, moral and/or cultural factors. This article proposes a multifactorial approach to UX which is based on these 8 dimensions that combine and coordinate with one another.