01.08.2014 | Original Article | Ausgabe 6/2014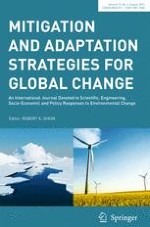 Is CO2 flux from oil palm plantations on peatland controlled by soil moisture and/or soil and air temperatures?
Autoren:

Setiari Marwanto, Fahmuddin Agus
Abstract
Measurements of carbon dioxide (CO
2
) flux at the soil surface of oil palm (
Elaeis guineensis
Jacq.) plantations on peatlands typically exhibit considerable temporal and spatial variation, which challenges the derivation of emission factors required in land use discussions. We tested 20 cm surface soil moisture content, and the diurnal patterns in soil and air temperatures as CO
2
flux controls during an annual measurement schedule in a 15-year-old oil palm plantation in Jambi Province, Sumatra, Indonesia. A total of 480 CO
2
flux measurements were obtained using an Infrared Gas Analyser (IRGA) at six different time intervals each day. Samples were recorded at 20 observation points distributed along four transects located 15, 42, 50, 70, and 84 m from the edge of the drainage canal. Results showed CO
2
flux exhibited no relationship to soil and air temperature, however values tended to increase with volumetric soil moisture content; the highest annual flux of 55 Mg ha
−1
yr
−1
was observed at mid-day, when air temperature was highest, and lowest at dawn when soil and air temperatures were lowest. CO
2
flux decreased consistent with distance from the drainage canal, suggesting a higher flux with a deeper water table. This result indicates a shallow water table must be maintained. The annual mean CO
2
flux of 46 ± 30 Mg CO
2
ha
−1
yr
−1
was comparable to other studies, and can be set as a baseline emissions factor for areas with similar land use and peat characteristics.