2018 | OriginalPaper | Buchkapitel
17. Is Economics a Science? Social or Biophysical?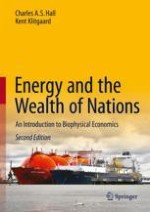 Erstes Kapitel lesen
Autoren: Charles A. S. Hall, Kent Klitgaard
Abstract
We start with a review of the basic ideas of some important economists as given in Chap.
2
. Economies exist independently of how we perceive or choose to study them. For more or less accidental reasons, we have chosen over the past 140 years to consider and study economics as a
social science
. The present social science focus, however, was not particularly the case with earlier economists, before, say, 1880, who were more likely to ask «where does wealth come from?» than are most mainstream economists today. In general, these earlier economists started their economic analysis with the natural biophysical world, probably simply because they had common sense but also because they deemed inadequate the perspective of earlier mercantilists who had emphasized sources of wealth as «treasure» (e.g., precious metals) derived from mining or trade or plunder. In the first formal school of economics, the French
physiocrats
(e.g., Quesnay 1758; see Christensen [1, 2]) focused on land as the basis for generating wealth.