2007 | OriginalPaper | Buchkapitel
Is Fixed Exchange Rates the Problem and Flexible Exchange Rates the Cure?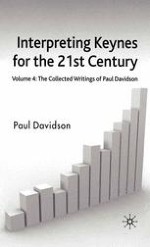 Erstes Kapitel lesen
Autor: Paul Davidson
Verlag: Palgrave Macmillan UK
Since the breakdown of the Bretton Woods system in 1973, orthodox economists have promoted the conventional view that freely fluctuating exchange rates in a laissez-faire market system are efficient. Every well-trained mainstream economist, whose work is logically consistent with classical theory "knows" that the beneficial effects of a freely flexible exchange rate are 1.the impossibility of any one country running a persistent balance of payments deficit;2.that each nation may pursue monetary and fiscal policies for full employment without inflation independent of the economic situation of its trading partners1; and3.that the flow of capital will be from the rich creditor (i.e., developed) nations to the poor debtor (i.e., less developed) nations. This international capital flow from rich to poor nations depends on a classical belief in the universal "law of variable proportions" that determines the real return to both the capital and labor factors of production. Since rich countries have larger capital to labor ratios than poor nations, the law of variable proportions indicates that the real return to capital should be higher in the poor nations where capital is relatively more scarce. Capital, therefore, should flow into the poor nation until the return on capital is equal in each country. The effect of this hypothetical classical international capital flow is to encourage more rapid development of the LDCs and, in the long run, a more equitable global distribution of income and wealth2 and a convergence of growth rates among all the nations in the global economy.