2016 | OriginalPaper | Buchkapitel
Is 'Fuzzy Theory' an Appropriate Tool for Large Size Problems?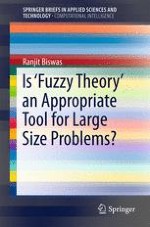 Autor: Ranjit Biswas
Abstract
To the world's scientists and researchers, the most popular soft computing set theories are as follows: fuzzy set theory, intuitionistic fuzzy set theory (vague sets are nothing but intuitionistic fuzzy sets, as justified and reported by many authors), i–v fuzzy set theory, i–v intuitionistic fuzzy set theory, L-fuzzy set theory, type-2 fuzzy set theory, rough set theory, soft set theory, etc. In such theories, the value of µ(x) is proposed by the concerned decision maker by his best possible judgment. While a hungry tiger finds his food like one cow or one buffalo or one deer (or any other animal of his own list) in the forest, he decides a lot by his best possible judgment on a number of significant parameters before he starts to chase and also during the real-time period of his chasing. The decision makers are human being, animal/bird, or any living thing which has brain (we do not consider software or robots which have artificial intelligence). The most important (but yet an open unsolved problem) question in the theory of soft computing is: How does a cognition system of human/animal evaluate the membership value
µ
(
x
)? This work unearths a ground-level reality about the 'Progress' of decision-making process in the human/animal cognition systems while evaluating the membership value
µ
(
x
) by proposing the
Theory of CIFS
. It is finally justified and concluded that 'fuzzy theory' may not be an appropriate tool to deal with large-sized problems, while in pursuance of excellent results. But at the end, two examples of 'decision-making problems' with solutions are presented, out of which one will show the dominance of the application potential of intuitionistic fuzzy set theory over fuzzy set theory and the other will show the converse, i.e., the dominance of the application potential of fuzzy set theory over intuitionistic fuzzy set theory in some cases.