2017 | OriginalPaper | Buchkapitel
10. Is Occupational Transformation in India Pro-Poor? Analysis of Rural Labour Market in the Reform Period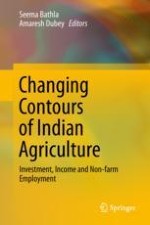 Erstes Kapitel lesen
Autoren: Amaresh Dubey, Shivakar Tiwari
Verlag: Springer Singapore
Abstract
Dual-sector model propounded by Lewis (Manchester Sch 22(2):39–191,
(1954)
and Kuznets (Am Econ Rev 63(6):247–258,
1973
) holds that with the economic development workers move from farm to off-farm sector. The off-farm occupation diversification contributes to household/individual well-being as well as in overall economic growth and development through increase in productivity. In India, occupational structure remained stagnant for a long period and non-farm diversification of occupation started only in the 1980s, the rate of which has been faster in the recent period. However, the positive implication of the diversification is not satisfactory, particularly in rural area. Based on the NSS data, analysis in the chapter shows that in rural area farm employment is still important as around 65% of workers were dependent on agriculture for livelihood in 2011–12. Non-farm employment generated is mostly casual and is largely driven by the construction sector in the urban vicinity. Even though non-farm employment has been poverty reducing, given the increase in the unskilled casual employment, but the uncertainty of earnings associated with casual employment sheds doubt on stability of upward economic mobility. It has not had much positive effect on investment in human capital formation at the household level. Through multinomial econometric model, determinant of access to various occupation in rural has been examined. Mean predicted probability estimated out of multinomial model shows mix trend in access to various occupations in the reform period for 1993–94, 2004–05 and 2011–12. At the same time, caste and education are still strong determinants of most sought after regular employment. Interestingly, education remained as a strong tool of transformation since those better educated have better employment opportunity, irrespective of the caste.