24.02.2018 | Original Paper | Ausgabe 2/2019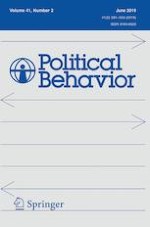 Is Sexism for White People? Gender Stereotypes, Race, and the 2016 Presidential Election
Zeitschrift:
Autoren:

Ana Bracic, Mackenzie Israel-Trummel, Allyson F. Shortle
Wichtige Hinweise
Electronic supplementary material
Authors are listed alphabetically.
Abstract
On November 8, 2016 Donald Trump, a man with no office-holding experience, won the Electoral College, defeating the first woman to receive the presidential nomination from a major party. This paper offers the first observational test of how sexism affects presidential vote choice in the general election, adding to the rich literature on gender and candidate success for lower-level offices. We argue that the 2016 election implicated gender through Hillary Clinton's candidacy and Donald Trump's sexist rhetoric, and activated gender attitudes such that sexism is associated with vote choice. Using an Election Day exit poll survey of over 1300 voters conducted at 12 precincts in a mid-size city and a national survey of over 10,000 White and Black Americans, we find that a politically defined measure of sexism—the belief that men are better suited emotionally for politics than women—predicts support for Trump both in terms of vote choice and favorability. We find the effect is strongest and most consistent among White voters. However, a domestically defined measure of sexism—whether men should be in control of their wives—offers little explanatory power over the vote. In total, our results demonstrate the importance of gender in the 2016 election, beyond mere demographic differences in vote choice: beliefs about gender and fitness for office shape both White men and women's preferences.