2019 | OriginalPaper | Buchkapitel
7. Is Sisyphus a Muslim Woman? Policymaking on Women Issues in Three Arab Countries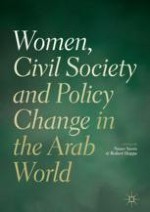 Erstes Kapitel lesen
Autor: Robert Hoppe
Abstract
This final chapter comparatively reflects on the descriptions and analyses of cases of policymaking on women issues in Lebanon, Morocco and Yemen. These cases all use theories of policymaking from the west, particularly the Advocacy Coalition Framework (ACF) and the Multiple Stream Theory (MST). But, can they be applied to public policymaking in the Arab world without loss of meaning, concept stretching or blind spots?
The chapter starts with reflections on the concept of 'policy' itself. Originating from the Anglosphere, many European and non-European languages do not have a full equivalent—Arab languages among them. So what do we mean when we speak of 'policymaking' in Arab countries? This discussion evolves into a discussion of possible modes of public policymaking: (a) those that allow policymaking as applied problem-solving following a puzzle-solving logic, in a political regime that develops its citizens' capacities (skills-and-competencies) for policymaking; and (b) those that do not foster such capacities, and subject policymaking to the logic of powering and regime maintenance. The three cases of policymaking show more powering than puzzling styles of policymaking; and the Lebanese case is the only one where capacities approach a sufficient level.
In all the cases one observes very limited success for women NGOs. In Yemen, before the outbreak of civil and proxy war, women issues, like (among others) a state law on marriageable age, were part of the public and even parliamentarian agenda; but governmental agenda status was effectively denied over and over again. In Morocco, the rights of Soulaliyate women to the proceeds of sale of communal lands made it to the agendas of regional authorities and courts owing to the policy entrepreneurship of some Soulaliyate women, supported by a still weak, nascent, national advocacy coalition on women's rights. But, due to a reluctant national government, Soulaliyate women were effectively barred from membership of communal land owning communities as legitimate participants in the national land-use policy subsystem. In Lebanon, KAFA managed the extraordinary feat to design a bill on the protection of women against domestic violence, and get it adopted as Law 239. Hence, to many observers inside and outside Lebanon KAFA is the icon of successful political participation by civil society organizations in the new political opportunity structures of post-Arab Uprisings. At second sight, however, KAFA's apparent success story is a case of a watered down legislative proposal, now condemned to the long-term and slow-pace dynamics of dramaturgical incrementalism and implementation.
These very modest outcomes prompt the question whether they should be ascribed fully to the generally poor capacity for solid policymaking, or that they are at least partly characteristic for policymaking for women issues in Arab countries? Paradoxically, when in pre-Uprising days women empowerment groups campaigned against authoritarian, repressive secular regimes, they fought its repression of women, but accepted its secularism. In the new political opportunity structures after the 2011 Uprisings which toppled corrupt, illiberal democratic but secular regimes, both modern and conservative Islamists looked for and found opportunities to inject more religion into politics. The waves of anti-secularism and re-Islamization, reinforcing each other, did not improve the already poor capacity for solid policy formulation and implementation. As demonstrated in the three case studies, the political and policy resistances by women NGOs to a public mood favorable to re-Islamization were not (in Yemen), or just moderately, successful (in Morocco and Lebanon). They amounted to preserving some wriggling room, as an expression of the public and political side of the patriarchal bargain that Muslim women have to fight for on a daily basis in their private lives as well.