2018 | OriginalPaper | Buchkapitel
8. Is the Universal Consensus on 'Technology Drives Development' Analytic or Synthetic?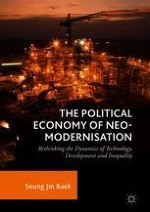 Erstes Kapitel lesen
Autor: Seung Jin Baek
Abstract
Whether technological progress amplifies or mitigates inequality remains a subject of heated debate. On the one hand, technological innovation has improved our lives, and many have undoubtedly benefitted from such innovation. In addition, the poorer segments of society have been partly able to escape from poverty by becoming more efficient and productive. On the other hand, some innovations have largely replaced human tasks, and many have indeed lost their jobs as a result thereof. In effect, those who do not benefit from technological advancements are taken away from substantive economic activities while the beneficiaries become wealthier. Given the complicated role (i.e., double-sidedness) of technology for growth and inequality dynamics, the objective of this chapter is to integrate these complexities into a broad S-curve paradigm.
Developmental S-Curve
is proposed to systematically explain how these three dimensions (i.e., technology, development, and inequality) interact under the S-curve framework. This proposed framework is used to attempt to challenge a universal consensus, namely that 'technology advancement drives economic growth' and concludes that such a utilitarian belief may not always be proved right.