1994 | OriginalPaper | Buchkapitel
Is there a Relationship between Atmospheric CO2 and Manganese in the Ocean?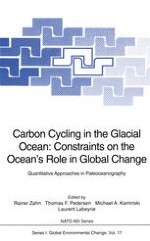 Erstes Kapitel lesen
Autoren: Augusto Mangini, Hans-Jörg Rutsch, Martin Frank, Anton Eisenhauer, Jörg-Detlef Eckhardt
Verlag: Springer Berlin Heidelberg
Enthalten in: Professional Book Archive
Trace element and 230Thexcess profiles of sediment cores from two strategic localities yield further experimental arguments to our Mn-CO2-hypothesis. At the Galapagos Microplate, which is supplied with hydrothermal Mn, we observe low Mn concentrations (as well as low Mn/Al and low Mn/Fe ratios) during isotopic stages 2 and 3 suggesting a longer residence time of Mn in the water column and enhanced export of Mn from this area to the glacial ocean. In the Angola Basin, west of the Congo Fan, peaks of Mn (and of Mn/Fe) coincide with peaks of 230Thexcess, which exceed the production flux at Terminations II and I. As 230Th is immobile in the sediments, the peaks suggest that the chemistry in the water column has changed significantly during the last part of glacial stages 6 and 2. Assuming a build-up of Mn in the water column during these periods, we infer that peaks of Mn in the sediments originate from rapid precipitation of MnO2 at the beginning of interglacials. We estimate the impact of Mn deposition on the alkalinity in the range from 3 to 10) µequ./l. This could explain a part of the rapid increase of atmospheric CO2 observed in the record of ice cores at the beginning of interglacial stages.