2000 | OriginalPaper | Buchkapitel
Is There Any Stable Long-run Equilibrium Relationship between Aggregate Consumption and Income in China?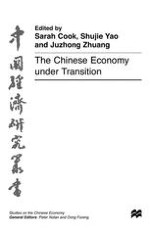 Erstes Kapitel lesen
Autoren: Haiyan Song, Xiaming Liu, Peter Romilly
Verlag: Palgrave Macmillan UK
Enthalten in: Professional Book Archive
Following Chow's (1985) seminal quantitative investigation of the relationship between aggregate consumption and income in China, a number of studies have been carried out in this area. These include Portes and Santorum (1987), Qian (1988) and Qin (1991). While these studies are all based on the lifecycle/permanent income-type hypotheses, their empirical results are far from reaching a consensus. Applying switching regression models with 1979 as the break point, Qian (1988) finds that there is a marked difference in consumer behaviour before and after the economic reform. Song, Liu and Romilly (1996) use the Kaiman filter approach to estimate the Chinese aggregate consumption function and find that both the average propensity to consume (APC) and marginal propensity to consume (MPC) have changed over time. The instability of the APC and MPC are found to be associated with the political and economic regime shifts. However, in her dynamic error-correction consumption model, Qin (1991) detects no significant changes in the propensity to consume — i.e. there is a constant long-run equilibrium relationship between consumption expenditure and income.