01.08.2013 | Ausgabe 2/2013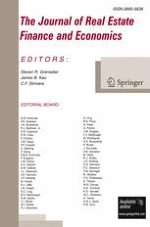 Is There Volatility Convergence in Asia-Pacific Securitized Real Estate Markets?
Zeitschrift:
Autoren:

Kim Hiang Liow, Wei Chen
Abstract
We assess whether a group of eight Asia-Pacific securitized real estate markets display similar volatility trend over the past 15 years, 1995–2009, using an econometric model that incorporates common volatility effects across the sample markets. The empirical results indicate the presence of at least one common variance component, and thus partial volatility convergence, among the sample Asia real estate securities markets. During the global financial crisis period, some real estate securities markets are co-integrated in both their first and second moments and demonstrate partial price and volatility convergence. Our analysis that focuses in capturing the common roots in the second moment whilst accounting for time-varying variance has important implications for international real estate portfolio investment.