25.08.2017 | Ausgabe 1/2019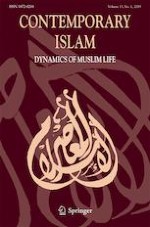 Islamic exorcism and the cinema fist: analyzing exorcism among Danish Muslims through the prism of film
Zeitschrift:
Autor:

Christian Suhr
Abstract
In this article I apply film theory as an analytic prism through which to examine the ritual mechanisms of a particular kind of Islamic exorcism (
al-ruqya al-sharʿiyya
). I show how these exorcisms operate as a ritual montage that conjures the absent presence of
al-ghayb
—a hidden world of power that only God can see in its totality and to which the possessed patients and the
jinn
spirits must succumb. These exorcisms thus provide healing, not in the sense of immediate "well-being" or "relief from pain" but in the sense of moral witnessing, an opportunity to testify to the limits of human seeing and action and to the ways in which invisible and divine forces give shape to the tangible world.