15.07.2016 | Original Article | Ausgabe 1/2017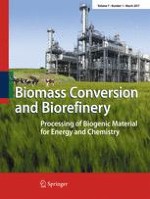 Isolation and characterization of alginate-degrading bacteria
Sinomicrobium oceani
Zeitschrift:
Autoren:

A. Jegatheesan, M. P. Sudhakar, C. Poonam, K. Perumal, K. Arunkumar
Wichtige Hinweise
Electronic supplementary material
The online version of this article (doi:
10.​1007/​s13399-016-0212-z
) contains supplementary material, which is available to authorized users.
Abstract
This research work is focused on identifying alginate-degrading bacteria from various marine as well as alginate industrial substrates using basal salt medium with alginate as sole source of carbon. In the present study, alginate-degrading colonies formed soft pits on the surface of the medium with clear haloes around them gradually degrading the solid medium into liquid on day 7. The isolate positive for alginolytic activity formed a circular pale yellow zone around the colony. Out of the 23 isolates studied, 11 exclusively isolated from the alginate industrial wastes were chosen for the degradation study. On the basis of bacterial growth, total sugar, reducing sugar and total protein in the culture medium, isolates AAl 01, AAl 02, AAl 03 and AAl 04 were selected of which consortium AAl 02 + AAl 04 was found promising for maximum alginate lyase activity on day 4 of inoculation at 28 °C with pH 7.5. Batch culture studies showed that fresh biomass of
Sargassum wightii
produced 37.88 ± 1.37 % of reducing sugar by direct saccharification using bacterial consortium, whereas by acid pretreatment + bacterial consortium, the yield was 62.69 ± 2.90 %. In the case of pigment-phycocolloid spent, 82.41 ± 4.50 % of reducing sugar was released using bacterial consortium, whereas by mild acid pretreatment + bacterial consortium, 86.68 ± 7.11 % was achieved. Results of morphology, biochemical tests and 16S rRNA sequence confirmed the two promising isolates as
Sinomicrobium oceani
(AAl 02 and AAl 04) belonging to
Flavobacteriaceae.
Seaweed biomass degradation using biological methods is non-toxic and considered environmentally safe.