13.10.2016 | Original Paper | Ausgabe 4/2017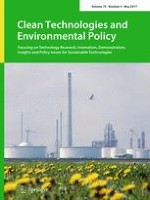 Isolation and characterization of seven quorum quenching bacteria for biofouling control in MBR
Zeitschrift:
Autoren:

Can Zhang, Shijie Zhan, Jian Wang, Zhongjian Liu, Hong You, Yuhong Jia
Abstract
Recently, interspecies quorum quenching (QQ) by bacteria has been reported as a novel approach in biofouling control in membrane bioreactor (MBR) for wastewater treatment. In this study, seven QQ bacteria, named RO1 to RO7, were isolated from fouling reverse osmosis (RO) membrane and were encapsulated in the microbial filters for biofouling control in MBR. Results showed that all isolates have extracellular QQ activity, and RO1 to RO6 were characterized as heat-stable enzymatic degradation of
N
-acyl homoserine lactones (AHLs), while RO7 was mainly pH-dependent. Analysis of the 16S rRNA gene indicated that RO7 was a species of
Pseudomonas
sp., others belonged to the species of
Bacillus
,
Stenotrophomonas maltophilia
and
Delftia tsuruhatensis
, respectively. Then, the microbial filters encapsulated each isolate were applied in a laboratory-scaled MBR and proved the substantial inhibition effect on membrane biofouling except for RO7, indicating that QQ bacteria employing enzymes to degrade AHLs have great potential in biofouling control in MBR.