2014 | OriginalPaper | Buchkapitel
135. Isolation and Identification of Saline Tolerance Phosphate-Solubilizing Bacteria Derived from Salt-affected Soils and Their Mechanisms of P-solubilizing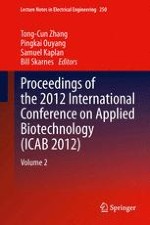 Erstes Kapitel lesen
Autoren: Yang Han, Chunmei Wang, Xinglin Li, Xuefei Cao, Aijia Cao, Na Zhao
Verlag: Springer Berlin Heidelberg
Abstract
The salt-affected soils of beach from Tianjin China were sampled to screen the saline tolerance phosphate-solubilizing bacteria (SA-T-PSB) using inorganic phosphorous medium. On basis of the phenotypic characterization and 16S rRNA gene sequencing, 4 isolates with the highest PSA, B1114, B1213, B1303, and J101 were identified as
Enterobacter ludwigii,
Pantoea ananatis, Pseudomonas psychrotolerans,
and
Gluconobacter frateurii
, respectively. Subsequently, aimed to assaying the mechanisms of P-solubilizing, organic acid types of the 4 isolates were determined by high performance liquid chromatography. The results showed that all 4 isolates mainly secreted gluconic acid. The effect of carbon and nitrogen source on P-solubilization activity of the strains also indicated that the production of gluconic acid is the main mechanisms of P-solubilizing.