2014 | OriginalPaper | Buchkapitel
79. Isolation, Identification, Antibacterial Effects of Antibiotic Drugs, and Chinese Herbal Extracts to the Pathogenic Bacteria of Swollen Abdomen from
Scophthalmus maximus

in Vitro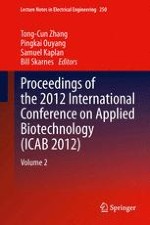 Erstes Kapitel lesen
Autoren: Xuan Wu, Dongqing Bai, Guoxia Zhu, Yanbin Ji, Zhichao Jia, Peng Zhou
Verlag: Springer Berlin Heidelberg
Abstract
The pathogenic bacteria was isolated from Turbot (
Scophthalmus maximu
s) with swollen abdomen, and proved to be the pathogenic bacteria by the infection experiment. In this research, VITEK-2 compact system was used to identify the pathogenic bacteria, and test the antibacterial effects of antibiotic drugs, paper diffusion method was used to evaluate the antibacterial effects of three kinds of Chinese herbal extracts on the pathogenic bacteria of swollen abdomen from Turbot in Vitro.The results showed that the pathogenic bacteria of swollen abdomen from Turbot was
stenotrophomonas maltophilia
, and the separation purity was 99 %. Without Trimethoprim,
S. maltophilia
had no CLSI salient point to the antibiotics of Ampicillin, Amikacin, Aztreonam, Cefazolin, Cefepime, Cefuroxime, Cefuroxime Axetil, Cefotetan, Ceftazidime, Ceftriaxone, Ciprofloxacin, Piperacillin, Imipenem, Gentamicin, Levofloxacin, Nitrofurantoin, Sulbactam, Tazobactam. Extract of the scutellaria and honeysuckle had different antibacterial effects to the
S. maltophilia
, and then the best bacteriostatic (MIC) and bactericidal (MBC) effects were 3.125 mg/mL and 6.25 mg/mL, respectively. However, the best MIC and MBC effects to extract from polygonum cuspidate were 100 mg/mL and 200 mg/mL, MIC and MBC effects lower than that extract from the scutellaria and honeysuckle. The results can provide reference materials for the clinical use of aquaculture and aquatic animal health cultivation.