2019 | OriginalPaper | Buchkapitel
10. Isolation of Endophytes: The Gold Standard?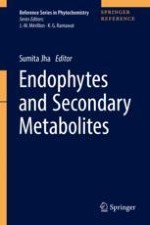 Erstes Kapitel lesen
Autor: Binay Chaubey
Abstract
Endophytes live in the internal tissues of plants without causing any visible damage to their hosts. They provide many beneficial effects to their hosts which range from promoting the plant growth to providing protection against various biotic and abiotic stresses to the host. They have also been considered to play direct or indirect roles in the synthesis of various biomolecules obtained from their host. However, most of the endophytes isolated and characterized so far have been culture dependent, and their number has been very low. Culture-independent studies of endophytes include high-throughput assays like transcriptomics, proteomics, etc. These high-throughput assays have predicted much higher numbers of endophytes as compared to the culture-dependent studies. The high-throughput assays have helped in deciphering the phylogenetic analysis of the whole microbiome of the plant and indicated very strong and deeper role of the endophytes in the host than anticipated before. However, in the absence of any gold standard approach for isolation and proper characterization of these endophytes, the high-throughput omics-based assays remain isolated to the particular hosts only. Their true potential in agriculture or crop protection will not be utilized. Therefore, the complex interaction of endophytes with their hosts needs to be studied by combining the omics-based assays with the culture-dependent methods, which can actually provide the true study material and their appropriate analysis.