03.05.2018 | Composites | Ausgabe 15/2018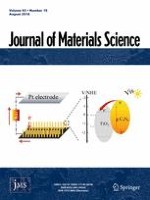 Isotropic thermal expansion in anisotropic thermal management composites filled with carbon fibres and graphite
Zeitschrift:
Autoren:

Valerio Oddone, Jakob Segl, Mythili Prakasam, Martin T. Hartmann, Jean-François Silvain, Christian Edtmaier, Stephanie Reich
Wichtige Hinweise
Electronic supplementary material
Abstract
Light materials with high thermal conductivity and low thermal expansion have a wide application potential for the thermal management of high-performance electronics, in particular in mobile and aerospace applications. We present here metal matrix composites with a mixture of graphite flakes and pitch-based carbon fibres as filler. The production by spark plasma sintering orients the filler particles on to a plane perpendicular to the pressing axis. The obtained materials have lower density than aluminium combined with a thermal conductivity significantly outperforming the used metal matrix. Depending on the ratio of the filler components, a low thermal expansion along the pressing direction (high graphite flakes content) or across the pressing direction (high carbon fibre content) is achieved. For a 1:3 ratio of carbon fibres to graphite, we measured an isotropic reduction of the thermal expansion of the matrix by up to 55%. We present a detailed characterisation of composites with two aluminium alloys as matrix and an overview of the properties for six different metal matrices including magnesium and copper. With the goal of a technical application, we show that the described properties are intrinsic to the material compositions and are achieved with a wide spectrum of production methods.