2015 | OriginalPaper | Buchkapitel
22. Issues of Governance, Policy, and Law in Managing Urban–Rural and Groundwater–Surface Water Connections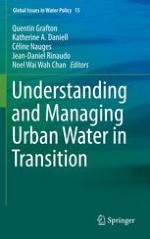 Erstes Kapitel lesen
Autoren: Rebecca Nelson, Heather N. Bischel, Richard G. Luthy, Barton H. Thompson Jr.
Verlag: Springer Netherlands
Abstract
Urban water systems increasingly are seen as one part of a complex web of diverse water sources and uses. Urban water managers can now rarely focus on one water source, or on water supply reliability alone, without considering social and environmental effects. Water laws and institutional arrangements can facilitate urban water suppliers recognizing and benefiting from connections and interactions in two core areas: between groundwater and surface water sources, and between urban and rural water supplies. This chapter will review, at a high level, how water laws and institutions can address these core areas of interaction, and encourage associated innovations. It also reviews challenges that remain in these areas. First, it discusses how water laws can provide for conjunctively managing groundwater and surface water sources through regulatory structures for managed aquifer recharge for urban supply, whether the source water derives from the urban area itself (for example, stormwater or treated wastewater), or out-of-district sources under water banking arrangements. Second, it examines how law can support connections between urban and rural water supplies, through water trading and source swapping, and agricultural use of urban wastewater. To illustrate these issues, it uses examples from Australia and the western United States—areas in which urban water suppliers face the common challenges of population growth, water scarcity, and increasing environmental demands.