2012 | OriginalPaper | Buchkapitel Open Access
10. IT-Implementation of Subject-Oriented Business Processes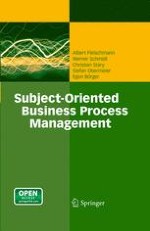 Autoren: Albert Fleischmann, Werner Schmidt, Christian Stary, Stefan Obermeier, Egon Börger
Verlag: Springer Berlin Heidelberg
10.1

To Go
×
IT has achieved a high level of penetration in many organizations. Without IT support, many business processes cannot be handled in an economically beneficial way. For this reason, the careful and on-demand mapping of processes to information and communication technology is an important task. This applies for cases where employees are involved, as well as for operations in which a high degree of automation is striven for. A suitable and well-fitting software environment plays a significant role here. However, the challenge in many cases is an existing heterogeneous landscape of systems and services, in which each of the components fulfills specific tasks, and for which all of these components need to be integrated into an overall solution for adequate process support.
In this chapter, we first describe the roles of S-BPM stakeholders in the IT implementation (Sect.
10.2
). Then we introduce a framework for IT implementation of subject-oriented process models (Sect.
10.3
) and describe the IT implementation of subjects and their behavior (Sects.
10.4
and
10.5
). Finally, we show that service orchestration is not only an effective but also efficient way to support the dynamics of S-BPM (Sect.
10.6
).
10.2

S-BPM Stakeholders in IT Implementation
10.2.1

Governors

The IT manager (e.g., CIO) plays a superior Governor role in IT implementation. He calls for IT compliance of planning, development, and operation of IT solutions (see Sect. 3.6.4). This ranges from the fulfillment of legal requirements (e.g., data protection, principles of data access, and verifiability of digital documents) to the observance of standards and internal guidelines, which the organization itself has defined as binding (e.g., IT infrastructure library, IT architecture principles, IT security policies, etc.). In large organizations, particular roles need to be installed, such as IT security and data protection officer, which will also take over functions of Governors and need to be involved in the IT implementation of processes. This also applies to staff representative bodies such as the works council, which can exert Governor functions, as a result of codetermination regulations.

An important task in the Governor's activity bundle of IT deployment is the process-related assignment of permissions to subjects or subject carriers to enable access to functions and data in the solution. In these cases, the process owner can be Governor. The implementation will be performed by a system administrator in the role of an Actor.
10.2.2

Actors

Actors involved in the process represent the users of solutions for process support. As such, they play an important role in IT implementation. Their behavior specified in the model defines the functional requirements for the systems to be developed. The Actors can be involved at an early stage of IT implementation by participating in the design of user interfaces and functionality. They can also try out prototypes. They test solutions using specific test cases and data, which they themselves have designed, eventually assisted by Experts.

With the help of Enterprise Mashups, process participants may step increasingly into the role of producing small applications to support their tasks in the process. Prerequisites are an Enterprise Mashup platform with which users can orchestrate information and application services without programming, as well as governance rules, which control and monitor these activities (Pahlke et al.

2010

, pp. 302 and 307). This type of end-user computing is particularly suited for situation-specific processes with individual needs and workflows and can be "understood as the next step toward a distributed workflow management by knowledge workers" (Pahlke et al.

2010

, p. 307). Given these properties, Enterprise Mashups can serve on the IT technical side as catalyst for self-organization in S-BPM.
10.2.3

Experts

Typical Experts in this bundle of activities are IT professionals, such as IT architects, software developers, database specialists, hardware specialists, and system administrators. They support the Governors, Facilitators, and Actors in building the IT infrastructure for process execution.
10.2.4

Facilitators

A key Facilitator for IT implementation is the leader of a development project. He coordinates the implementation of the domain model into a workflow and all associated tasks. In the development process, he integrates the Actors according to their demands and suggestions, the Governors with respect to their constraints, the Experts with their know-how, and if required, external resources for specific tasks (e.g., training providers).

After going into production with a solution, the responsibility for maintenance and further development is usually passed on to the IT (line) unit. It could also be outsourced to an external service provider. In both cases, troubleshooting and change requests are usually handled by a service desk. Its employees will act as Facilitators, receiving requests for small maintenance tasks or changes during operation. For major modification proposals, they address the respective process owner, who in this case initiates as a Facilitator a (change) project when appropriate.
10.3

Framework for Executing Subject-Oriented Processes

To implement IT support, a business process needs to be represented as a workflow. This is the detailed specification of a process from an IT perspective (cf. Vogler

2006

, p. 40). From several conventional interpretations of existing workflow definitions (see, e.g., Becker et al.

2008

, p. 56; Gadatsch

2010

, pp. 46 ff.; Schmelzer et al.

2010

, p. 420; WfMC

1997

, p. 244), the following understanding of a workflow can be derived:

A workflow is a:
Formal description of

Activities which are executed by

Communicating actors (roles/people, embedded IT systems)

Partially or fully automated on

Objects (inputs and outputs, including data structures)

Following business rules

Controlled by the business logic
A workflow is a refinement of a purely domain-specific business process with respect to implementing a strategy (what?) in terms of IT support (how?) (cf. Gadatsch
2010
, p. 53).
Referring to the concepts presented in
Chap.​ 5
concerning subject-oriented modeling, and putting these into relation with essential workflow characteristics, the relationships depicted in Fig.
10.1
can be complemented in the right column with the corresponding aspects with respect to IT implementation.
×
Whereas for organization-specific implementation, the relation of process models to the organization, including underlying human actors (subject carriers) was discussed (see Fig.
10.2
, upper part), in the context of IT implementation, the focus is placed on the relation of a process model to IT systems (Fig.
10.2
, bottom part). In the course of IT implementation, also the assignment of subject carriers to subjects needs to be done according to the result of the previously performed organization-specific implementation.
×
Figure
10.2
shows the frame of reference (framework) integrating humans and machines in a socio-technical system for process execution. As revealed by the figure, models of business processes couple human actors with supporting IT solutions, while they control the process. If the formal model description is transformed into an interpretable language for a workflow engine, the engine can take over the control flow at runtime. It triggers people and application systems as actors according to the workflow specification, supports their individual activities and their cooperation by providing guidelines, information, etc. and documents the progress of processing.
In this context, the principle of constructing models systematically becomes essential: taking into account technical systems, such as information systems, the data and functions perspective is, in addition to the stakeholders perspective, in the focus. For IT implementation, the organization-specific implementation needs to be explored and specified in terms of data management, service architecture, and user privileges, and implemented accordingly.
The circled numbers in Fig.
10.2
represent the following aspects of an IT implementation, which are detailed in the following sections:
1.
Implementation of access for subject carriers
2.
Implementation of business objects (see 3a)
3.
Implementation of subject behavior (business logic and business rules)
(a)
Behavioral action (manipulation of business objects)
(b)
Communication behavior (sending and receiving messages)
10.4

IT Implementation of Subject Carrier Access

Subjects were assigned to subject carriers performing concrete actions during the organization-specific implementation. In terms of IT implementation, these can be human subject carriers (people as users) or automated subject carriers (IT systems).

People who are engaged as subject carriers in activities in an IT environment for workflow support must be made known to this environment as users and provided with the required access privileges.

These privileges can be static, but can also change dynamically depending on the organizational context and the progress when executing process instances. For example, the employees of the travel office should only have access to personal data provided by applicants, as long as they work on the travel request. A short-term designated delegate must have the same system and data access privileges as the subject carrier who delegated him.

The implementers could realize user and privilege administration either specifically in the individual applications, or with the help of overall user access concepts, e.g., using the Lightweight Directory Access Protocol (LDAP). A single sign-on should be provided, as actors may need to use many different applications for task completion.

Automated Subject Carrier

s

For organizational implementation, we have shown how subjects are mapped to human carriers. For IT implementation, subjects need to be assigned to automated subject carriers. IT systems acting in such a process must be integrated into the workflow. To accomplish this tasks, interfaces need to be created which enable the communication between automated subject carriers and also between automated and human subject carriers. Automated subject carriers are mainly used for parts of workflows that can run with minimal human intervention.

Workflow Management Systems facilitate the straightforward implementation of those parts of subject behavior specifications that can be executed without human intervention. In S-BPM, the subject behavior specification reveals the stakeholder intervention and control requirements for task accomplishment.
10.5

IT Implementation of Subject Behavior

The modeled behavior describes the action behavior (work steps) and the communication behavior (sending and receiving) of the subjects involved in the process (see Sects. 5.5.5. and 5.5.3). The type and sequence of activities of the model determine the business logic of the process which is to be implemented.

The implementation has to create a process flow control and to integrate applications and services providing the functionality required for performing work and interaction steps. For the implementation of the process flow control, the developers may use standardized technologies, such as Java and Business Process Execution Language (BPEL) in conjunction with a workflow engine. Services can be integrated by linking, as a portlet, by calling methods, or as Web services. In this way, when required, the human users can also become part of workflows, e.g., by triggering a service to display a user interface enabling users to enter data into a business object.

The following sections detail various IT implementations of action and communication behavior, exemplifying its use.
10.5.1

Action Behavior

Action behavior includes internal functions a subject or its respective carrier executes in the course of processing a process instance. Of particular importance are operations on business objects. Business objects and possible operations on business objects, or respectively, on their instances, were introduced in the context of modeling (see Sect. 5.5.7.6). The business objects defined in a process model are transformed in the course of IT implementation into appropriate data structures that can be processed by IT systems (e.g., XML schemata).

In a further step, operations on business objects need to be implemented. Figure

10.3

shows various approaches. They are usually applied in combinations.
×
Subjects that perform operations as part of their behavior for creating and manipulating business objects and business object instances (as shown in the figure) can be users (human subject carriers) or applications (automated subject carriers). They require functions for creating, viewing, editing, storing, etc. of business object content.
10.5.1.1

Human Operators

If users should interactively perform operations on business objects and their instances, they need user interfaces. These can be provided either by an application managing the business object or generated from the data structure description of the business object.
Using the user interface

(front end) of an application (IT system

).

The behavioral description of a subject can define in a state that a subject carrier uses a particular application to modify business object data. For this purpose, the application's screens are directly activated in this state and entered data stored by way of the same. An example of this type of integration of business objects are SAP application transactions. The behavioral description controls the invocation of the transaction, which is represented and implemented in the process model by the abstract business object. In this case, the application can be considered as an encapsulated business object in which the data structure and the user interface are unified.

The technical implementation for the integration of user interfaces of such encapsulated business objects is very straightforward. The transfer of their data into other business objects and vice versa, however, is generally more complicated. This is due to the fact that the complete data structure of an encapsulated business object often remains to a great extent hidden, and only those elements displayed in the associated user interface are visible. Consequently, if elements of the business object need to be accessed without involving the user interface, transfer programs need to be developed to transfer the desired data from the encapsulated object, e.g., from an SAP database, to a target business object, and vice versa.

Generating the user interface

from the business object

definition

. For the manipulation of business objects without recourse to existing applications, the user interface can be derived from the data structure description of the business object. The elements of the business object are mapped to corresponding fields of a screen mask. In case the behavior description contains user interactions, the subject carrier is able to maintain the data by means of this screen mask. The newly entered or modified values are stored in the corresponding data elements of the business object definition.

If the implementation of the user interface is restricted to simple, table-like user dialogs, its code could automatically be generated from the business object definition using appropriate technology, e.g.,

http://​www.​ecplise.​org

. This also applies for static validation checks for preventing input errors. For instance, in a field that is defined as a date field, only data in a valid date format can be entered; arbitrary strings are not permitted. For a field where only certain inputs are allowed, a bulleted list of the possible values can be defined (value range).
More sophisticated designs leading to more comfortable user interfaces can be achieved through usage of dedicated design tools for user interface screens and forms. However, usually a manual mapping of data elements of the business object to (form) fields is required. Complex, dynamic plausibility checks also require more effort, e.g., due to the need for programming special tests. An example is the dependency of an input on previously entered data. For instance, an underage trainee, after entering his date of birth in the business trip application form, might subsequently be required to enter his legal guardian's data in a dynamically displayed input field.
10.5.1.2

Operations Through Application Functions or Services

Instead of being operated interactively, business objects or their instances can be manipulated automatically and without user intervention by application program functions or services. For implementation, internal functions of a subject behavior are linked to appropriate application functions or services. The flow control component of the workflow engine then invokes these when a subject carrier reaches the respective functional state.

Such functions or services could be database queries or calculation algorithms. They are forwarded business objects to be manipulated, or parts of them, as parameters. They then return results from querying and calculation, respectively, which are transferred to the business object data. The reverse path, e.g., updating data base records from a business object, can also be performed.

In the example of the business trip application, a service could automatically be triggered after an employee has entered the business trip data, in order to calculate advance payments. This service receives a part of the business object "business trip request" with the relevant data for determining the advance payment for the trip, passed on as parameters (e.g., employee number, start and end date, national/foreign country, salary grade, amount of the advance payment [empty], etc.). Using this data, first the service accesses a database in which the expense rates are structured according to destinations and salary groups. Then, it calculates the amount according to the duration of the trip. The calculated value flows back as parameter into the appropriate field of the specific instance of the business object "business trip request".
10.5.2

Communication Behavior

Subjects interact and synchronize by exchanging messages, which often contain business objects. As described in the context of modeling, the concept of input pool is used for implementation (see Sect. 5.5.5.2). Each subject must have such an input pool. IT managers may implement a pool as parameterized service module (e.g., using Web services). It provides insertion and extraction operations and associated interfaces with which subject carriers can deposit outgoing messages and extract received messages.

The extract interface is a local internal affair of the subject and can be implemented by any technology. As a subject usually communicates with several other subjects, however, for the realization of outgoing messages, it should be noted that for sending messages to different recipients different technologies may have to be used (such as Remote Method Invocation (RMI) and Web services). If these are known, in the course of generating code for the subject behavior, the appropriate send operation can be embedded.

When sending a message that contains a business object, only a copy of the business object is created and sent. When receiving a message, the values are taken from the received business object and put into a uniform business object of the receiver. The implementation of these operations can be part of code generation for the behavior of a subject.
10.5.3

Example

The scenario in Fig.

10.4

, namely registration and approval of a business trip request, illustrates the combination of the presented possibilities for manipulating business objects, which is often required in practice, as well as the communication of the involved subjects.
×
The subject "employee" has been linked in the course of the organizational implementation to Mr. Schulz as subject carrier. In the state "complete business trip request", he fills out an instance of the business object "business trip request". In order to complete this task, he uses the automatically generated screen mask (from the business object definition), and initially enters his personnel number into the respective entry field. In the background, a function (database query) checks automatically whether for this personnel number, forwarded as a parameter, a record in the employee database exists. It returns either an error message, or data of the person, such as name, first name, salary grade, etc., which are incorporated into the appropriate fields of the business object instance.
For entering the trip start and end date, the electronic calendar of Mr. Schulz is integrated (with a specific) user interface as encapsulated business object. The clicked dates are forwarded by an operation right from the calendar to the business object.
Further information from Mr. Schulz, with respect to destination and the intention of the trip, completes the application instance of the business trip request, which is then sent for approval to Mr. Schmid, the organization-specific implemented manger of Mr. Schulz.
Mr. Schmid sees the arrival of the application process in his process portal and opens it. The data entered by Mr. Schulz and the automatically generated data of the request are enriched for the manager with the notice for approval (e.g., a checkbox with a remark field) and shown on the screen. Mr. Schmid approves the trip without any changes, clicks the appropriate check box, and executes thereby a state transition in accordance with his modeled behavior, namely from the function state "Business trip application—check request" behavior to the send state "Approve".
With this state transition, not only the delivery of the approved application to the applicant is achieved. The approval is also the trigger for the automatic update of a number of databases. A function call linked with the state transition results in the transfer of selected data from the business trip request (travel time, target, intention, etc.) into the employee database. Another function transmits the approved advance payment to the payroll system, which initiates the payment. At the same time, with a corresponding call, the flextime application is triggered to take over the travel dates of Mr. Schulz, which were transferred as parameters from the business object and store them in its own database including presence and absence times, working time balances, etc.
10.6

Relationship to Service-Oriented Architectures

Service-oriented architectures allow the implementation of the functional part of subject models in a straightforward way. In S-BPM, all functions of a subject, which are linked to calls of application systems, are affected.

The principle of coordination in S-BPM corresponds to the same in choreography. In contrast to orchestration, the coordination of subject behavior is achieved by direct message exchange, which simultaneously represents the control of the entire system, and as such, the organization.
Open Access.
This chapter is distributed under the terms of the Creative Commons Attribution Non-commercial License, which permits any noncommercial use, distribution, and reproduction in any medium, provided the original author(s) and source are credited.