01.02.2011 | Sonderheft 1/2011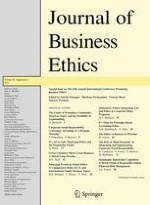 It's Time for Principles-Based Accounting Ethics
Zeitschrift:
Autoren:

Albert D. Spalding Jr., Alfonso Oddo
Wichtige Hinweise
This article was presented at the
16th Annual International Conference Promoting Business Ethics
, Niagara University, October 2009, and reflects the comments and suggestions of conference participants.
Abstract
The American Institute of certified public accountants (AICPA) has promulgated a
Code of Professional Conduct
, which has served as the primary ethical standard for public accountants in the United States for more than 20 years. It is now out of date and needs to be replaced with a code of ethics. Just as U.S. generally accepted accounting principles are being migrated toward "principles-based accounting" as part of a convergence with international financial reporting standards, a similar process needs to occur with ethics. This article organizes the primary rules of the AICPA Code around five essential virtues: objectivity, integrity, inquisitiveness, loyalty, and trustworthiness. These virtues correspond to the general principles set forth in the
Code of Ethics for Professional Accountants
of the International Federation of Accountants (IFAC). From this virtue ethics perspective, various rules of the AICPA Code are critiqued as being inadequate at best, and poorly crafted at worst. The article concludes with the proposition that principles-based ethics serves the profession and the financial reporting process better than the current rules-based approach.