2016 | OriginalPaper | Buchkapitel
7. Iterative Methods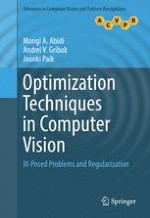 Erstes Kapitel lesen
Autoren: Mongi A. Abidi, Andrei V. Gribok, Joonki Paik
Abstract
In solving optimization problems, proper constraints play an important role in both making the problem well posed and in making the solution approach the desired and appropriate results. Once constraints are imposed on the solution of a problem, it becomes a constrained optimization problem. Since there are a variety of methods available for solving unconstrained optimization problems, rather than the constrained ones, we usually replace the constrained problem by an unconstrained counterpart by using regularization techniques.
In many image processing and computer vision applications, optimization problems are used for estimating the complete data. This assumes that the incomplete data, and the transformation that relates the complete and the incomplete data, are given. If the transformation occurs in a space-invariant manner, the optimization process can be performed in the discrete Fourier transform domain, as discussed in the previous chapter.
Although frequency domain implementation is extremely efficient for solving space-variant optimization problems, its application is limited because the space-invariance assumption does not hold for many problems. The use of iterative type methods for solving general optimization problems is widely accepted. They include (a) direct search methods, (b) derivative-based methods, (c) conjugate-gradient methods, and (d) quasi-Newton methods.
Iterative type methods in the above list have been developed for solving rather general-purpose numerical optimization problems. For this reason, they are not very efficient in solving more stringent optimization problems. This is especially true for image processing and computer vision applications, where special constraints, such as non-negativity and smoothness, are widely used.
In this chapter we introduce the regularized iterative method for solving optimization problems in image processing and computer vision applications. Particular emphasis is given to incorporation of constraints and discussion of convergence issues.