2017 | OriginalPaper | Buchkapitel
5. Jean Bartunek and the Power of Working Across Boundaries: Dualities and the Missing Voice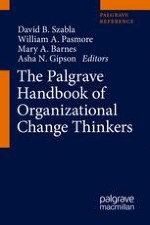 Erstes Kapitel lesen
Autor: John R. Austin
Verlag: Springer International Publishing
Abstract
Throughout her career, Jean Bartunek has purposely placed herself on boundaries and excitedly explored the tensions inherent in those boundaries. Theory and practice, insider and outsider, academic and practitioner, qualitative and quantitative – she's mined all these boundaries for insights that go well beyond the boundary in question. These studies challenge researchers, students, and managers to look beyond their own perspectives and embrace a form of dialectical inquiry to find the voices they may be ignoring or unconsciously undervaluing. Jean's work on second-order change, insider/outsider research methods, and academic-practitioner dynamics continues to contribute to our understanding of dialects, especially those that are initially hidden, and the paradoxes that are often attached to them.
Jean lives these boundaries in addition to studying them. In addition to being a full-time academic, she is also a Roman Catholic sister, a member of the Religious of the Sacred Heart. Both of these sides of her life are crucial to her identity and have been throughout her adult life.
A number of current areas of inquiry have benefited from Jean's work. These include context-sensitive sensemaking, missing voices in change theory and design, the lived experience of change, planned change and transformation, process and implementation theories, emotion in change, and idea translation across boundaries.