2017 | OriginalPaper | Buchkapitel
43. John Kotter: A Pragmatic Observer of Managers' Life Worlds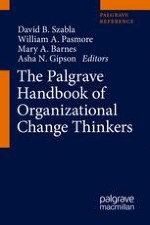 Erstes Kapitel lesen
Autor: Brett Clay
Verlag: Springer International Publishing
Abstract
Studies of organizational change and leadership often include, if not begin with, the works of John Kotter, Ph.D., professor emeritus of Harvard Business School. Kotter focuses almost exclusively on management practitioners, rather than scholars, and uses parables, stories, and case studies to teach the learnings he has gained through observing what successful managers actually do, rather than what they should do. Kotter's Harvard Business Review article,
Leading Change
,
Why Transformation Efforts Fail
(1995), is widely considered to be a seminal work and precursor of the change management domain. The eight mistakes which Kotter postulated came to be known as the eight-step model for implementing organizational changes. Kotter's large body of work on the eight-steps is bookended by his work differentiating management and leadership. Kotter argues managers rely on hierarchy to produce consistency and order, whereas leaders utilize networks of relationships to produce change. In summary, those readers who are interested in pursuing excellence, rather than convention, and in learning from stories and real-world examples, rather than theories, may benefit most from Kotter's work.