24.08.2021 | Ausgabe 3/2021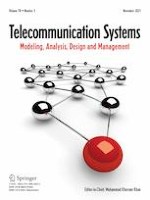 Joint estimation of the channel and I/Q imbalance for two-way relay networks
Zeitschrift:
Autoren:

Saeed Abdallah, Ahmed I. Salameh, Mohamed Saad, Ali A. El-Moursy
Wichtige Hinweise
This research was supported in part by the Distributed and Networked Systems Research Group, University of Sharjah, Operating Grant number 150410, and in part by University of Sharjah Competitive Grant number 18020403109.
Publisher's Note
Springer Nature remains neutral with regard to jurisdictional claims in published maps and institutional affiliations.
Abstract
In this work, we consider amplify-and-forward two-way relay networks operating under the imperfect conditions of in-phase and quadrature-phase (I/Q) imbalance. We propose novel, efficient solutions for the problem of joint channel and I/Q imbalance estimation and the related problem of optimal pilot design. Three different estimation algorithms are developed. The first is the pilot-based maximum-likelihood (ML) estimator. The second is a semi-blind estimator that employs the expectation–maximization (EM) strategy. The third is the semi-blind decision-directed (DD) estimator. As benchmarks on estimation performance, we obtain the analytical expressions for the Cramer–Rao bound (CRB) for pilot-based estimation, and the modified-CRB for semi-blind estimation. In addition to the estimation algorithms, we propose an optimal pilot design that minimizes the mean-squared estimation error. Using simulations, we show that both the pilot-based ML and the semi-blind EM converge to their respective exact CRBs. Importantly, it is shown that both the EM and the DD estimators offer substantially higher estimation accuracy than pilot-based estimation, as well as improved symbol-error-rate (by up to 1.8 dB), which is achieved at a low computational cost.