01.10.2011 | Ausgabe 5/2011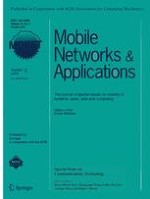 Joint Optimization of Source Power Allocation and Relay Beamforming in Multiuser Cooperative Wireless Networks
Zeitschrift:
Autoren:

Xin Li, Yimin D. Zhang, Moeness G. Amin
Wichtige Hinweise
This work was supported in part by DARPA under contract no. HR0011-07-1-0001. The content of the information does not necessarily reflect the position or the policy of the Government, and no official endorsement should be inferred. Approved for Public Release, Distribution Unlimited.
Abstract
Relay beamforming techniques have been shown to significantly enhance the sum capacity of a multiuser cooperative wireless network through the optimization of the relay weights, where concurrent communications of multiple source-destination pairs are achieved via spatial multiplexing. Further optimization of the transmit power allocation over the source nodes is expected to improve the network throughput as well. In this paper, we maximize the sum capacity of a multiuser cooperative wireless network through the joint optimization of power allocation among source nodes and relay beamforming weights across the relay nodes. We consider a two-hop cooperative wireless network, consisting of single-antenna nodes, in which multiple concurrent links are relayed by a number of cooperative nodes. When a large number of relay nodes are available, the channels of different source-destination pairs can be orthogonalized, yielding enhanced sum network capacity. Such cooperative advantage is particularly significant in high signal-to-noise ratio (SNR) regime, in which the capacity follows a logarithm law with the SNR, whereas exploiting spatial multiplexing of multiple links yields capacity increment linear to the number of users. However, the capacity performance is compromised when the input SNR is low and/or when the number of relay nodes is limited. Joint optimization of source power allocation and relay beamforming is important when the input SNR and/or the number of relay nodes are moderate or the wireless channels experience different channel variances. In these cases, joint optimization of source power and distributed beamforming weights achieves significant capacity increment over both source selection and equal source power spatial multiplexing schemes. With consideration of the needs to deliver data from each source node, we further examine the optimization of global sum capacity in the presence of individual capacity requirements by maximizing sum capacity of the network subject to a minimum capacity constraint over each individual user.