2020 | OriginalPaper | Buchkapitel Open Access
3.
Kaizen

Toward Learning, Transformation, and High-Quality Growth: Insights from Outstanding Experiences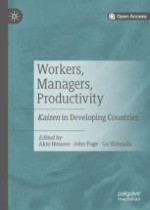 Autor: Akio Hosono
Verlag: Springer Singapore
Abstract
Kaizen
normally refers to the Japanese approach toward improving quality and productivity. What distinguishes
Kaizen
from other approaches is that these goals are attained through its process—one in which learning and inclusiveness are essential. The sustainable development goals (SDGs) call on member states to promote sustained, inclusive, and sustainable economic growth and decent work for all.
Kaizen
can contribute to achieving the kind of growth characterized by these attributes. In this chapter, I begin by providing an analytical perspective and discussion of key issues related to
Kaizen
(Sect.
1
). Based on this discussion, I then review the goals, tools/methods, and process of
Kaizen
(Sect.
2
). In Sect.
3
, I discuss the relationship between
Kaizen
and the targets of the SDGs as well as learning, transformation, and quality of growth. In Sect.
4
, I analyze outstanding experiences of Japan, the United States, Singapore, Thailand, and Tanzania which have introduced
Kaizen
or similar approaches in order to gather insights on the above-mentioned relationship.
Based on the analysis of these experiences, we could conclude that
Kaizen
, total quality management (TQM), and related approaches were able to contribute to growth—and in particular to high-quality growth—by increasing productivity through learning. It could also facilitate transformation through enhancing learning capacity, an essential endowment for industrial transformation. These approaches are intrinsically inclusive, because they are approaches in which participation by all and their learning are essential. They are also able to contribute to sustainable growth because they reduce use of materials and improve energy efficiency by eradicating
muda
(wastefulness). Such approaches improve security and safety for workers as well through elimination of
muri
(excessiveness),
mura
(dispersion), and so forth. Therefore,
Kaizen
, TQM, and related approaches could contribute to the achievement of Goal 8 of SDGs by facilitating directly and indirectly sustained, inclusive, and sustainable economic growth, full and productive employment, and decent work. However, it should be recognized that there are challenges to fully implementing these approaches in the many diverse contexts of developing countries and that further in-depth studies are needed to address these challenges effectively.