2017 | OriginalPaper | Buchkapitel
KASLR is Dead: Long Live KASLR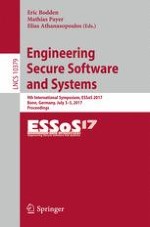 Erstes Kapitel lesen
Autoren: Daniel Gruss, Moritz Lipp, Michael Schwarz, Richard Fellner, Clémentine Maurice, Stefan Mangard
Abstract
Modern operating system kernels employ address space layout randomization (ASLR) to prevent control-flow hijacking attacks and code-injection attacks. While kernel security relies fundamentally on preventing access to address information, recent attacks have shown that the hardware directly leaks this information. Strictly splitting kernel space and user space has recently been proposed as a theoretical concept to close these side channels. However, this is not trivially possible due to architectural restrictions of the x86 platform.
In this paper we present
KAISER
, a system that overcomes limitations of x86 and provides practical kernel address isolation. We implemented our proof-of-concept on top of the Linux kernel, closing all hardware side channels on kernel address information.
KAISER
enforces a strict kernel and user space isolation such that the hardware does not hold any information about kernel addresses while running in user mode. We show that
KAISER
protects against double page fault attacks, prefetch side-channel attacks, and TSX-based side-channel attacks. Finally, we demonstrate that
KAISER
has a runtime overhead of only
\(0.28\%\)
.