2019 | OriginalPaper | Buchkapitel
2. Kautilya's Arthaśāstra: A Philosophical Reconstruction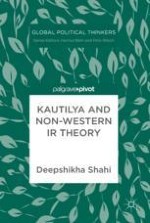 Erstes Kapitel lesen
Autor: Deepshikha Shahi
Abstract
Kautilya's Arthaśāstra is a source of inspiration for scholars who are interested in conceptualizing Indian IR and/or Global IR. However, when the 'formulaic principles' of Kautilya's Arthaśāstra are used to study specific case-studies in IR, no intellectual attempt is made to 'qualify' these formulaic principles by bringing in the insights drawn from the philosophical substructures of Kautilya's Arthaśāstra—namely,
Sāṃkhya
,
Yoga
and
Lokāyata
(literally meaning 'numbers', 'aggregate', and 'worldly ones' respectively). Due to the neglect of
Sāṃkhya
,
Yoga
and
Lokāyata
as the philosophical foundation of Arthaśāstra (which definitely bears an extra-Political Realist stance), Kautilya is habitually considered as comparable to those Western scholars who are sympathetic to 'Political Realism as realpolitik'. Against this orthodox trend, this chapter aims to systematically expose the extra-Political Realist elements in the philosophical underpinnings of Kautilya's Arthaśāstra, thereby reconstructing this classical text as a document of 'Political Realism between realpolitik and moralpolitik'.