01.08.2014 | Ausgabe 3/2014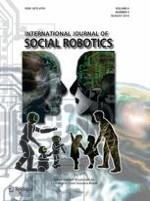 Keep an Eye on the Task! How Gender Typicality of Tasks Influence Human–Robot Interactions
Zeitschrift:
Autoren:

Dieta Kuchenbrandt, Markus Häring, Jessica Eichberg, Friederike Eyssel, Elisabeth André
Abstract
In an experiment, we tested whether the gender typicality of a human–robot interaction (HRI) task would affect the users' performance during HRI and the users' evaluation, acceptance and anthropomorphism of the robot.
\(N = 73\)
participants (38 females and 35 males) performed either a stereotypically male or a stereotypically female task while being instructed by either a 'male' or a 'female' robot. Results revealed that gender typicality of the task significantly affected our dependent measures: More errors occurred when participants collaborated with the robot in the context of a stereotypically female work domain. Moreover, when participants performed a typically female task with the robot they were less willing to accept help from the robot in a future task and they anthropomorphized the robot to a lower extent. These effects were independent of robot and participant gender. Our findings demonstrate that the gender typicality of HRI tasks substantially influences HRI as well as humans' perceptions and acceptance of a robot.