10.03.2020 | REGIONAL CASE STUDY | Ausgabe 4/2020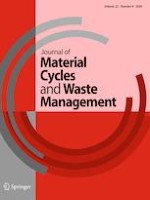 Key informants' perspectives on the challenges of municipal solid waste management in Iran: a mixed method study
Zeitschrift:
Autoren:

Sanaz Esmaeilizadeh, Abdolreza Shaghaghi, Hassan Taghipour
Wichtige Hinweise
Electronic supplementary material
Publisher's Note
Springer Nature remains neutral with regard to jurisdictional claims in published maps and institutional affiliations.
Abstract
Evaluation of the municipal solid waste (MSW) management system seems necessary to promote urban services. The present study is aimed to identify and prioritize the problems and deficiencies of MSW management in Iran. This study has used a mixed-methods (Scoping review and Delphi technique) approach to achieve its goals. The results obtained by the scoping review showed that the average rate of Iran's MSW generation in the last decade (2009–2019) was 0.745 kg/capita/day. The average of MSW composition was estimated to include: organic material (68.42%), paper and cardboard (7.31%), plastic (9.80%), pet (0.99%), metal (1.59%), rubber (1.09%), textile (3.02%), glass (2.33%), wood (0.97%), and others (4.48%). Also a scoping review of the current status of Iran's MSW management showed that at present, Iran's MSW management has both some strengths (such as collecting more than 90% of the total generated MSW) and lot of weaknesses such as lack of a systematic program for MSW reduction, weakness in source separation, low processing and recycling, unsanitary disposal of MSW, etc. According to the results of the Delphi technique, Iran's main MSW management problems are: disregarding the investment for culturalization in the field of SWM and low effectiveness of the existing educational methods, disregarding the principles of integrated solid waste management hierarchy, imbalance in cost-efficiency in MSW systems, the existence of major deficits and weaknesses in recruitment and selection of staffs and the existence of additional non-expert human resources, lack of incongruity between the non-standard solid waste disposal crimes and their penalties, lack of executive guarantees for the proper implementation of the existing regulations, poor performance of the responsible organizations in the field of public education, as well as lack of effective cooperation among the responsible bodies in this field. Overall, consideration and elimination of priority problems and reinforcement the strengths of Iran's MSW management system can be effective in improving the performance of this system.