2021 | OriginalPaper | Buchkapitel
KeyLight: VR System for Stage Lighting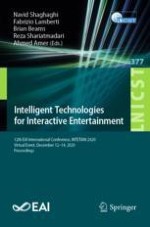 Erstes Kapitel lesen
Autoren: Madeline Golliver, Brian Beams, Navid Shaghaghi
Abstract
Training in lighting design for theater is increasingly grounded in new technologies. A growing momentum towards the incorporation of new digital tools including computer-based "magic sheets" and digital lighting consoles simplifies the work of lighting designers while also supporting diverse talent through accessibility offerings. As the industry also moves away from traditional classroom education, there is a need for alternative options that will allow future lighting designers to practice their trade.
KeyLight leverages Alexa voice control, Unity Engine visualization, and virtual reality (VR) technologies to train designers to create lighting looks using industry standard terminology and commands. KeyLight's voice user interface (VUI) bypasses the issue of learnability prevalent in other VUIs by enforcing use of theatrical commands that already require specific verbiage in industry contexts.
Through the medium of virtual reality, design students can practice their craft without the constraints of lighting equipment, space, or personnel availability. With this tool, junior lighting designers develop their fundamental technical and communicative skills. Testimonials from industry professionals suggest that KeyLight can supplement the education of aspiring lighting designers by enabling them to practice their communication through digital design work. Through KeyLight, junior lighting designers can learn the fundamental skills of additive color mixing, the efficacy of different lighting angles, the division of lighting fixtures into channels and groups, and to communicate their designs to a board operator. Results also indicate that there are applications of this voice technology to the workflow of professional lighting designers.