15.10.2018 | Ausgabe 6/2018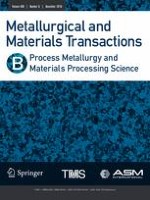 Kinetics Analysis of Boron Removal from Silicon through Reactions with CaO-SiO2 and CaO-SiO2-Al2O3 Slags
Zeitschrift:
Autoren:

M. S. Islam, M. A. Rhamdhani
Wichtige Hinweise
Manuscript submitted May 11, 2018.
Abstract
Different types of slags have been used to refine silicon, particularly for removing boron impurity from metallurgical grade (MG) silicon. Although a number of slags have been used for silicon refining, there is limited information about boron removal kinetics, particularly during the refining reaction with CaO-SiO2-Al2O3 slags. This article investigates the boron removal kinetics using the CaO-SiO2-Al2O3 slag systems in the temperature range 1773 K to 1873 K (1500 °C to 1600 °C). All the results obtained in the present study provide a strong indication that the rate limiting step of the slag-silicon reaction kinetics was mass transport in the liquid slag. It was also shown in the study that as the reaction temperature is increased, the mass transfer coefficient is also increased. At any particular reaction temperature, adding alumina in the CaO-SiO2 slag was shown to decrease the mass transfer coefficient, which is consistent with the substantially higher viscosity of the alumina bearing slags over the CaO-SiO2 slag. The mass transfer coefficients were determined to be between 1.23 × 10−6 and 2.82 × 10−6 ms−1, with activation energies between 64 and 109 kJ/mol, respectively.