01.03.2009 | Ausgabe 2/2009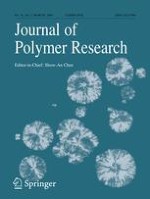 Kinetics and thermodynamics of water adsorption onto rice husks ash filled polypropene composites during soaking
Zeitschrift:
Autoren:

Lyubomir Vlaev, Sevdalina Turmanova, Antonia Dimitrova
Abstract
The kinetics and thermodynamics of water adsorption onto rice husks ash filled polypropene composites during soaking were studied at different temperatures, quantities and nature of fillers. Raw rice husk, "white" and "black" rice husks ash and Aerosil were used as fillers of polypropene. The increase of fillers contents in the polymer matrix was found to result in non-linear increase of the amount of adsorbed water. The highest adsorption capacity showed the samples filled with raw rice husks, while the lowest—those filled with black rice husks ash. The adsorption kinetics was limited by intra-particle diffusion in plane sheet particles. The values of the diffusion coefficients
D
, diffusion constants
D
o
, activation energy of the diffusion process
Е
а
, changes of free energy Δ
G
≠
, enthalpy Δ
H
≠
and entropy Δ
S
≠
for the formation of the activated complex from the reagent were calculated. A compensation effect between
D
o
and
Е
а
was observed. Based on the Van't Hoff equation, the values of the changes of standard free energy Δ
G
o
, enthalpy Δ
H
o
and entropy Δ
S
o
of water adsorption were calculated. The sorption process is exothermal in nature and accompanied with decrease of the entropy. The values of the sorption coefficient
S
and permeability coefficient
P
were calculated at 25 and 90 °C.